Greetings! Today is a great day for
a new bundle
. This one is a combination of 1930s reproduction prints, some calicos, and other tiny florals and basics that create a perfect soft rainbow. There are so many wonderful things you can make with it! Let's get into it. (Unless you just want to
shop now
!)
There are so many patterns I think would work well for this bundle, here are few I thought of. Let me know if you have other ideas!
The free pattern Maggie Pearl by Penelope Handmade would be a lovely match for this particular fabric.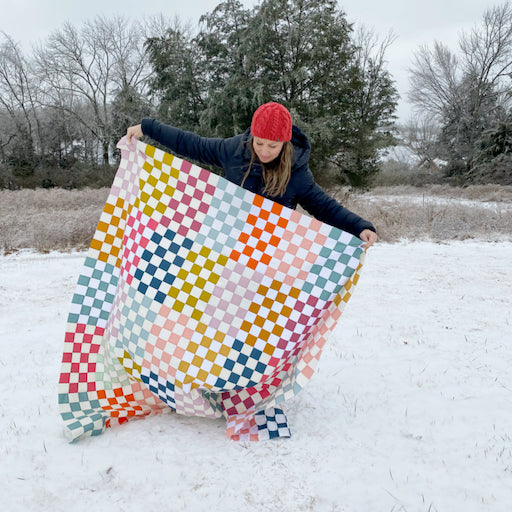 A simple half square triangle quilt like this one by Beech Tree Lane is never a bad choice.
A Great Granny square quilt is one of my favorite things to make. This was my birthday bee quilt a few years ago, using the block tutorial and 2.5" sashing.
There's something so right about Dresden blocks and 30s fabric. Dresden Botanica by Missouri Star is a great one!
The above pinwheel Dresdens by Amy Smart would also be super cute! It's a tutorial. This is another cool Dresden tutorial from a trunk show she attended, looks like they followed this tutorial.
Mini Merry Go Round by Sandy Klop is a favorite of one of my best friends. She saw this one at Garden of Quilts last year, let me know if you know the maker! I'm not sure of the specific fabric requirements for this one, you'll have to do some sleuthing if you plan on making it and shop accordingly.
Lastly, I am still looking for a source on this photo, and I don't have a pattern for it specifically, but I thought it was wonderful inspiration for this bundle. I know it's a vintage quilt for sale, I'll cite the source if I'm able to find it. Please let me know if you know! It's a vintage quilt seller on IG.
I also think it would make a wonderful Scrappy Trip. Of course :)
While you can make anything you want with this very versatile bundle, the pattern I designed specifically for this bundle is called Felicity, which means intense happiness. I've felt so happy designing and making this quilt!
It's made for a Layer Cake or two Charm Packs, plus yardage of accent and background fabric. They should be ready mid-January. This is easily a top 3 favorite pattern ever for me, I love the simplicity, the look of granny squares without any weird trimming or bias, and the way each print gets to shine. It also has some sweet strip piecing for all the sashing, and nesting seams throughout, so it goes super quick!
There's a pink color way and a blue color way for the kits, each with red centers. I read in a 1982 quilting book that red centers were used in the middle of log cabin blocks to represent the chimney. When I shared that on Instagram, a few people shared that they had learned different meaning for the use of red, that is was the heart of the home, or the love found at home. I loved those definitions even more! I'm sure that all were true, depending on who you ask.
I'll be back in January will more details on those kits. For now,
happy shopping
and Merry December!